Midway between consumer software like Microsoft Office and custom-built solutions, Maya Suite offers you the best of both worlds… affordable flexibility! We offer ongoing support and expertise and will advise and guide you with solutions tailored to your particular needs
We analyze your needs according to several parameters:
The size of your business or organization

The number of current and future users

Your current hardware configuration and what is required for the optimal use of your Maya solutions

Software and licenses already in use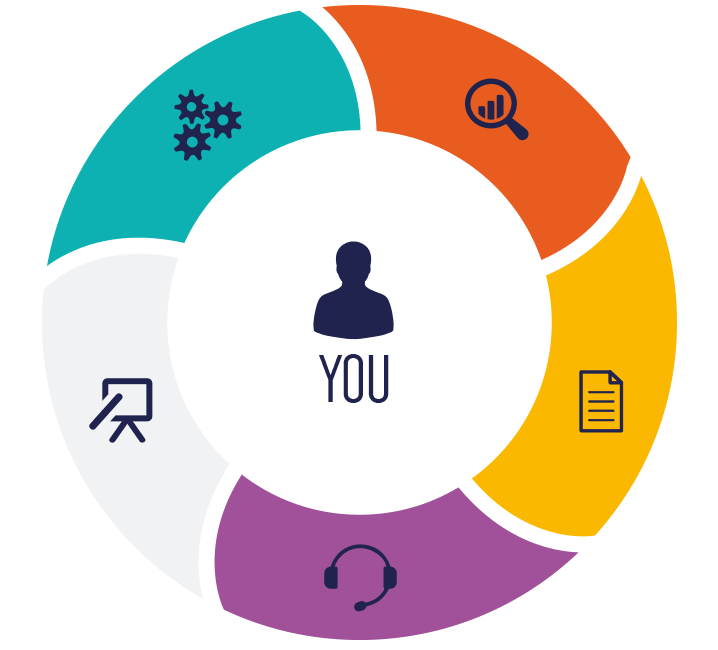 "GAP & FIT"
Analyzing your company's specific needs

PLANNING
Carefully prepared site plan and dedicated project manager.

SUPPORT
Unlimited technical support *.

TRAINING
On site or online with one of our dynamic trainers.

HOSTING AND EQUIPMENT
A turnkey project with the right tools.
ANALYSIS OF THE SPECIFIC NEEDS
OF YOUR COMPANY
"GAP & FIT"
Depending on the project, we will analyze your needs and we will propose solutions tailored specifically for you.
THE SITE PLAN
AND THE PROJECT MANAGER
In order for your project to be implemented in the best possible way and without a hitch, we will provide you with a detailed site plan and a dedicated project manager to ensure that everything is done according to schedule and established standards.
UNLIMITED TECHNICAL SUPPORT
*
Have a problem using your Maya Suite software? We are here for you during office hours. By phone, online or through our remote service, we will help you work through any issues and get you back on the right track. But we won't just answer your questions: we will proactively help by guiding you in the optimal use of your Maya Suite et and Réseau Santé à Domicile tools.
–
*Does not include training, programming or implementation services.
TRAINING
Whether on site or online, we offer you in-depth training so you can use your Maya Suite tools. Our dynamic trainers know our software inside out and know how to make you Maya Suite experts!

HOSTING AND EQUIPMENT
We are able to provide you with the materials, equipment and hosting needed to maximize the benefits of your Maya Suite configuration.
Your Maya Suite features will be hosted in the way that best suits your needs:
On your own servers

On our secure cloud servers
So you can be sure you have the right tools for optimal performance at a very reasonable cost.