MAYA SUITE: YOUR KEY TO SUCCESS!
The Maya Suite is a software toolkit to help your business organize, optimize, and integrate all your operations resulting in more efficiency and reduced operational costs.

It is ideal for any enterprise that manages complex working schedules like organizations or companies in public or private home health care industry, security agencies, other industries employment agencies or any service business dealing with workers on the road.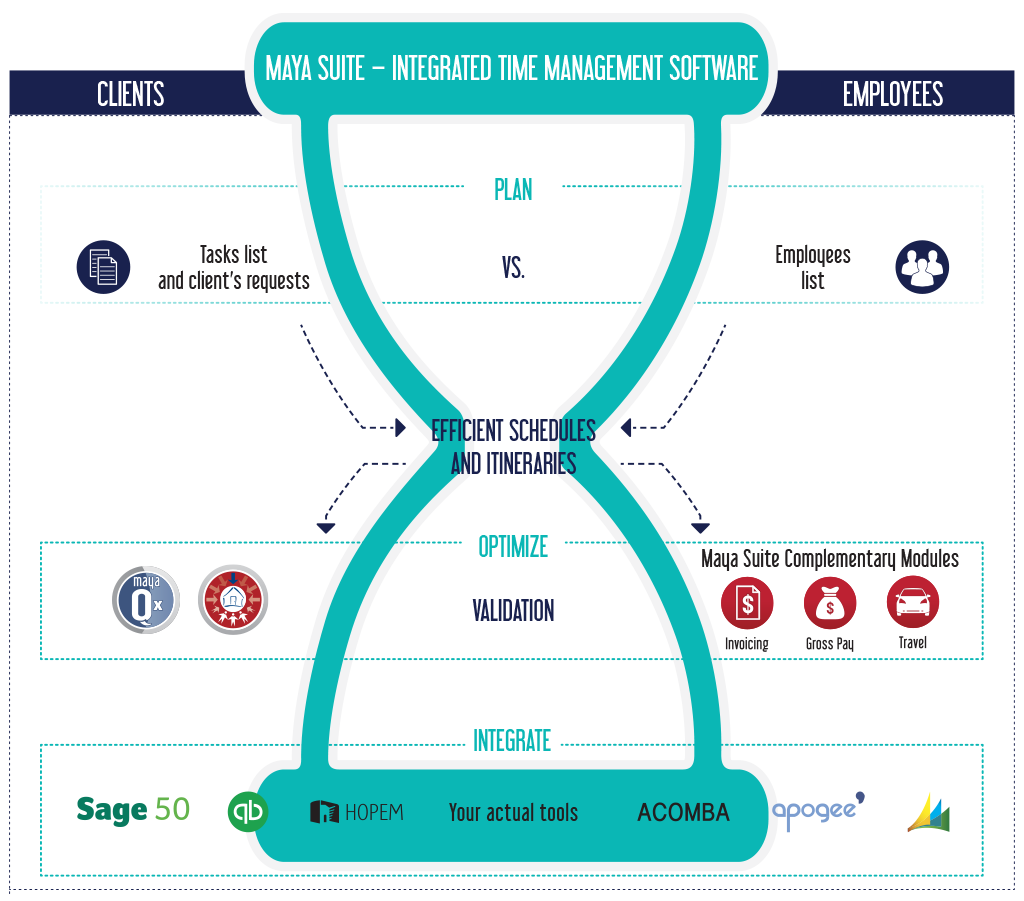 ACQUIRING THE MAYA SUITE GENERALLY PAYS FOR ITSELF
WITHIN THE FIRST YEAR OF USE!
Rationalizing your operating costs

Reducing the wait time for your clients

Diminishing your employees' workload

A COST-EFFECTIVE INVESTMENT!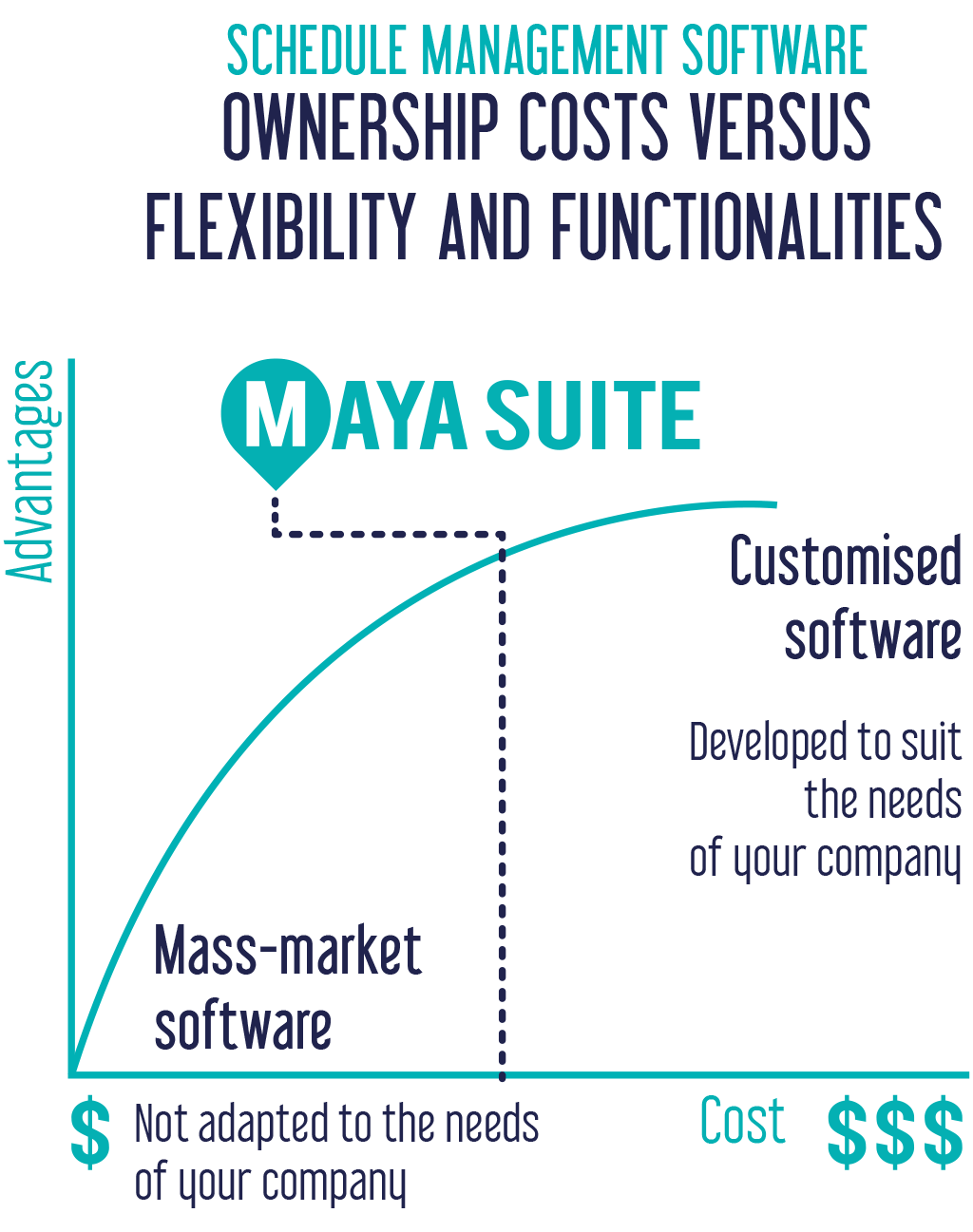 We offer 3 levels of software solutions tailored to your business needs:
MAYA SOFTWARE SUITE CORNERSTONE
Basic module of Maya Suite , Qt–Time & Resources is the ideal tool to help you plan, optimize and integrate all the operations of your service business.
Already more than 80% of the organizations and companies in the home care industry in Quebec are using Qualicode's solutions. It is a perfect tool to help you reach your efficiency and business goals.
WHAT ARE THE ADVANTAGES OF QT–TIME & RESOURCES?
Qt–Time & Resources helps you to plan, optimize and integrate all your business operations:

Maximize your time by suggesting efficient schedules with the best work/travel ratio possible.

Reduces operations costs by reducing travel time.

Offers stable and integrated software in the form of a web.net application with an SQL Server base.

Can be completely and perfectly harmonized with 13 additional modules of the Maya Suite and the Réseau Santé à Domicile.


Is compatible with your actual payroll and accounting software.
Includes many personalized reports.

Allows you to send information and reports directly by email.

Your investment will pay for itself within the first year of use.

Used by 80% of home healthcare organizations and businesses in Quebec!

Installed with a turnkey service!
QT–TIME & RESOURCES IS NOW AVAILABLE
IN "MAYA" VERSION
Greater flexibility and a more user-friendly interface
Faster
Extended features

Designed in collaboration with nurses, Qx–Clinical Follow-up is an ideal tool for nurses working in home care or retirement homes. It is an application to help you plan your appointments and do the related clinical follow-ups. By being synchronized with QT-Time & Resources it will help you to optimize your time and follow-ups. Qx–Clinical Follow-up is therefore both a medical record and a schedule management software.
It allows you to read and manage:
Appointment schedules for you and you patients. You can go from one to another in a single ''click''.
General information (imported from Q t–Time & Resources)
Patient's contact details

General health care plan
Patient's clinical information including:
Initial evaluation

General health information

Monitoring of medication and health parameters

Therapeutic Nursing plan

Laboratory sampling

Notes from other professionals

Education provided

Systematic monitoring

Psychosocial situation

Intravenous and wound care

Assistance and therapeutic plan

Exclusive reports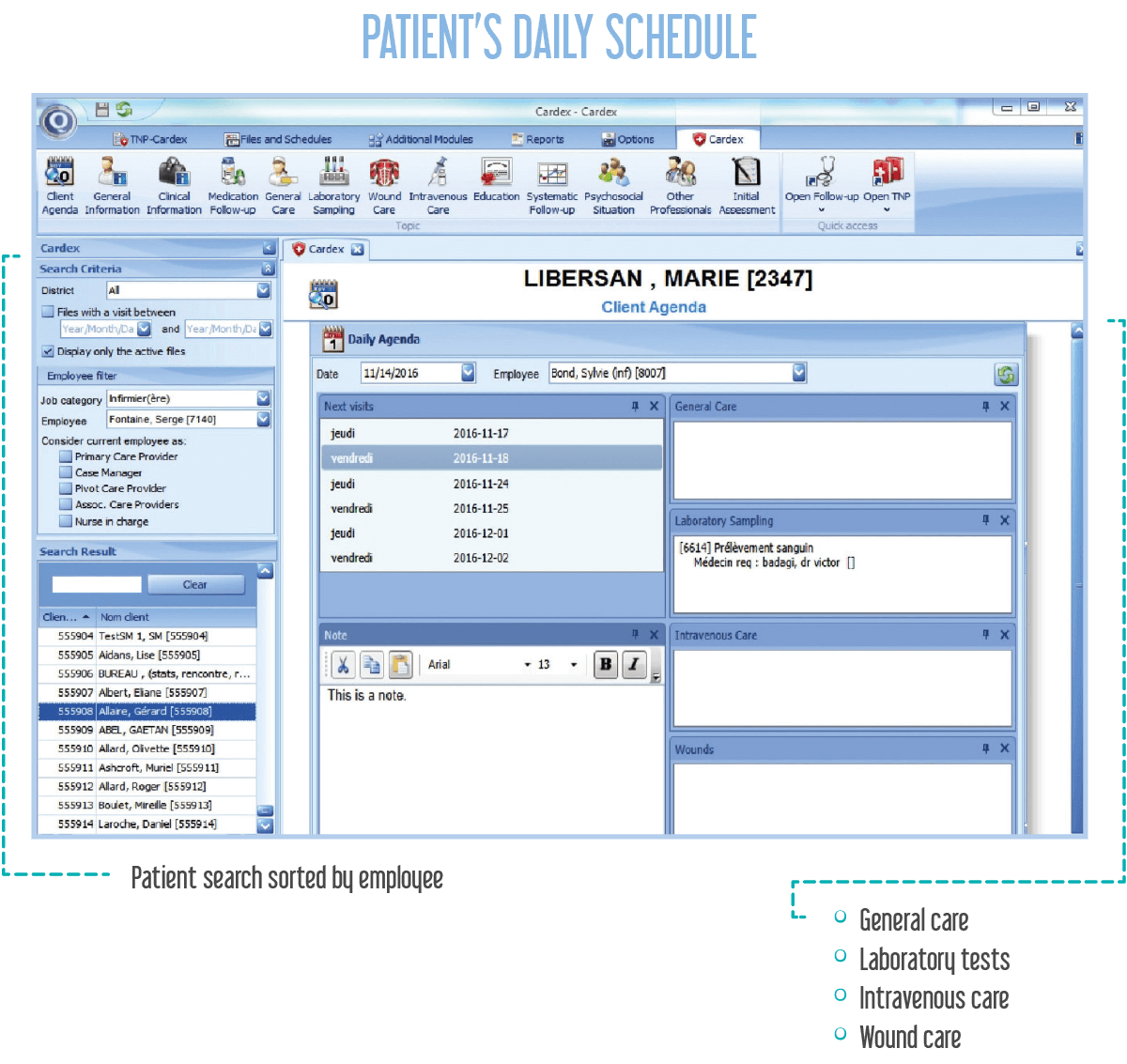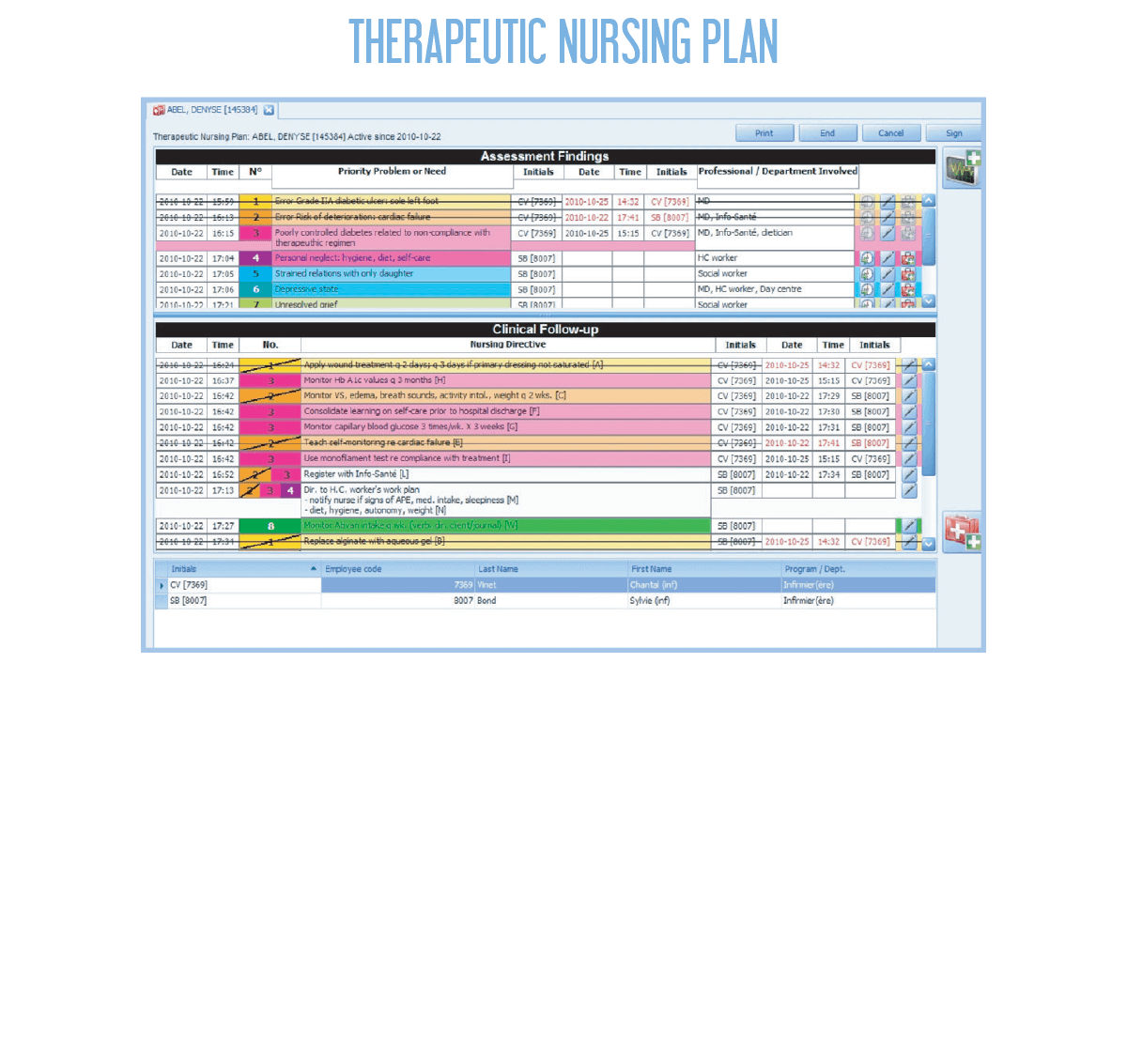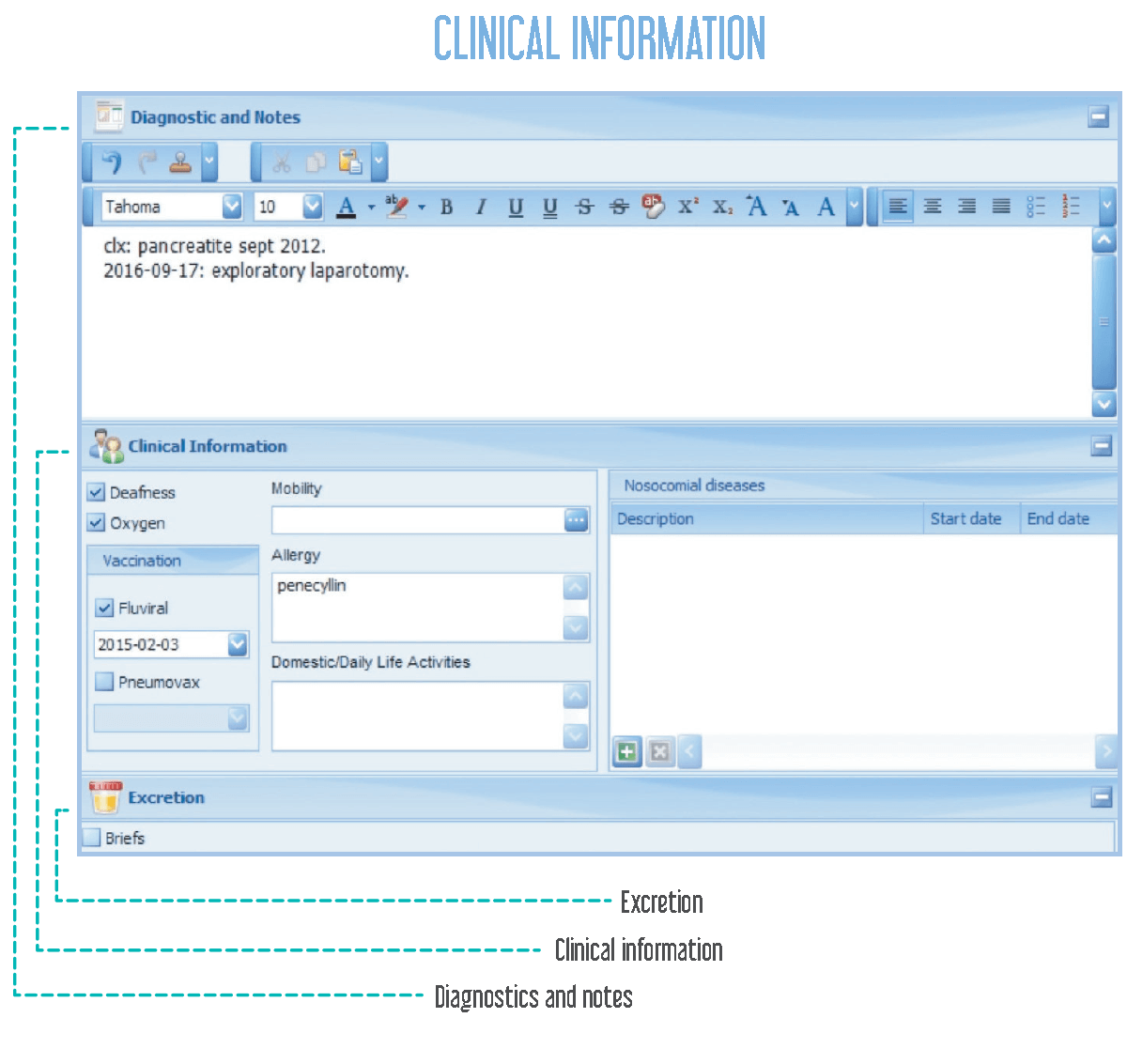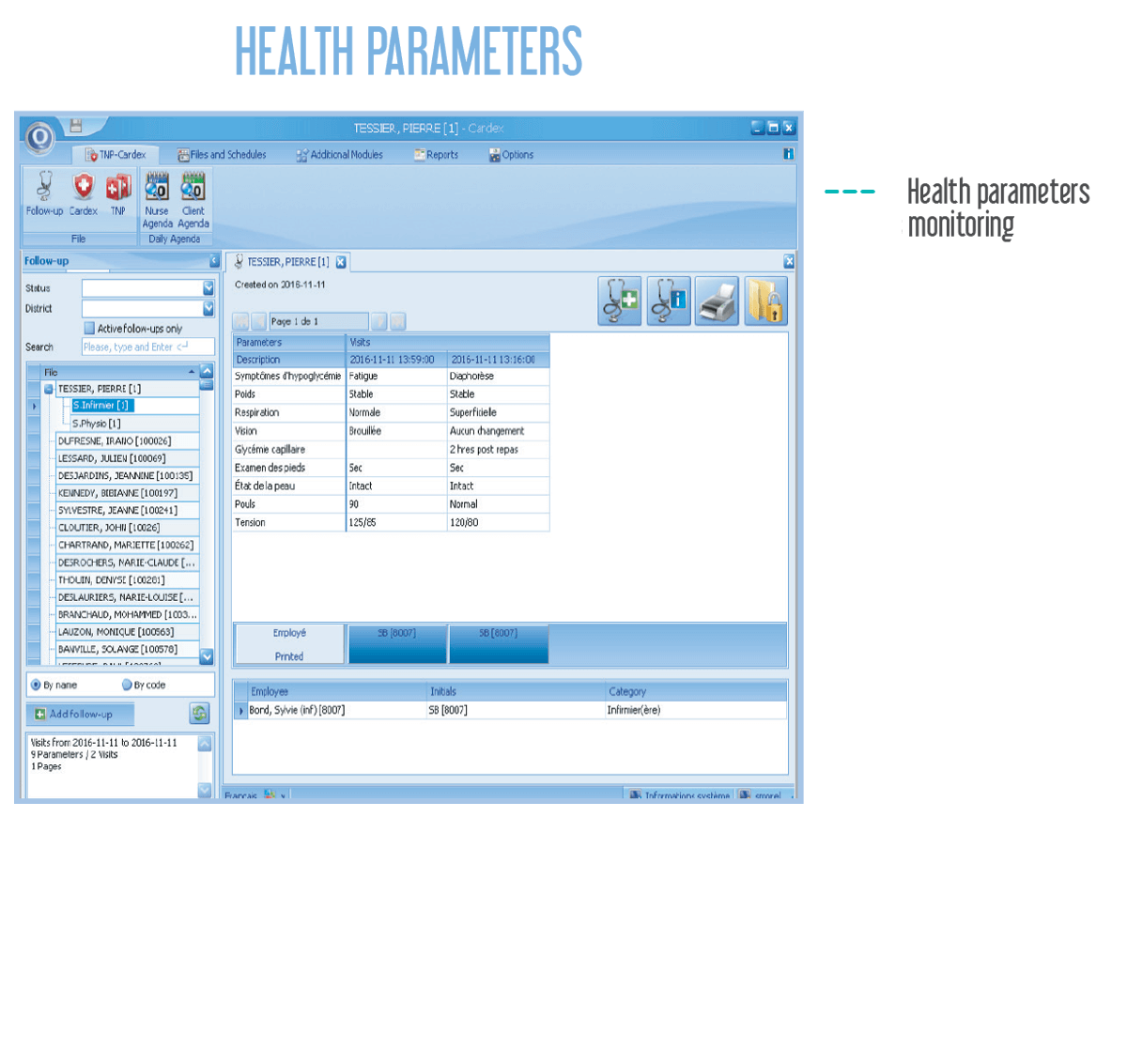 WHAT ARE THE ADVANTAGES OF USING
QX–CLINICAL FOLLOW-UP
Perfectly integrated and complementary to Qt–Time & Resources

PTI section is in accordance with the OIIQ standards

Login per user for greater security and privacy
Complete solution allowing you to optimize your patient's care

Designed in collaboration with nurses and specifically for them

Several related interfaces to help browsing
COMPLEMENTARY MODULES: YOUR SET OF KEYS
As powerful add-ons to the basic Qt–Time & Resources Maya Suite, these modules will allow you to go further in planning, optimizing and integrating all aspects of your business activities.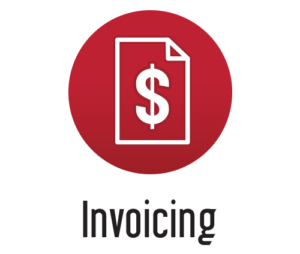 This very flexible module allows you to charge each service according to the contract. It can be issued to your customer, to one or more or any other possible combination of customer/funders.
–

Allows you to choose the billing period for each case (e.g. weekly or monthly)

–

Allows you to choose the billing according to a fixed amount, a set number of hours, or a combination of the two

–

Allows you to modify an invoice project, if the need arises, and then generate it on a final invoice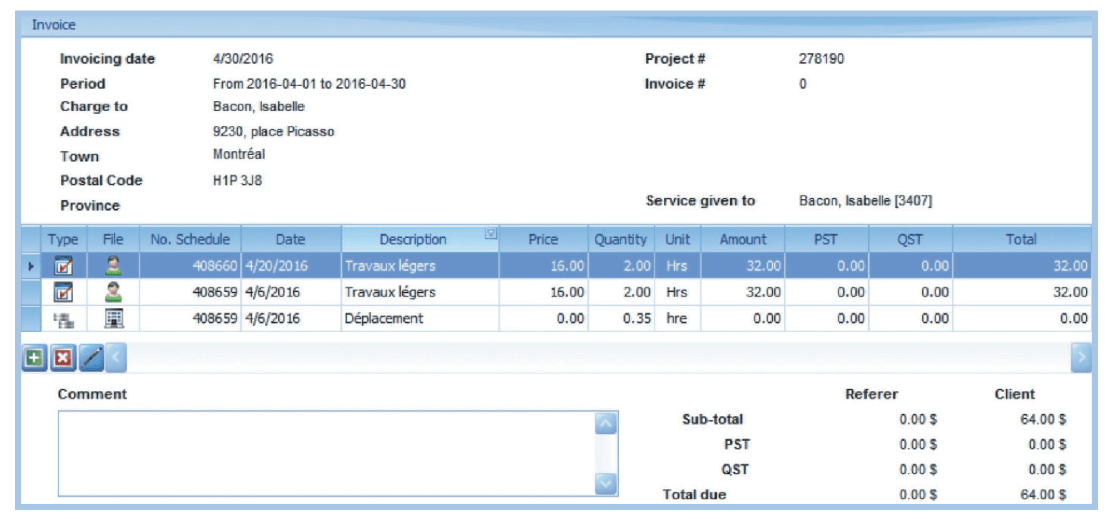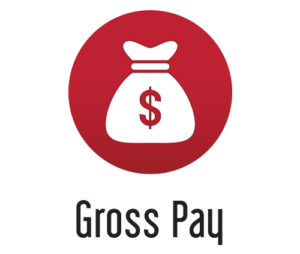 This module turns time sheets into gross pay and exports it to your payroll software, taking union agreements and labour standards into account. It is compatible with the most popular payroll software and factors in collective agreement and labour standard rules.
–

Allows you to indicate the hourly rate, cost or bonus for each employee and for each task

–

Allows you to create as many pay groups as needed with different pay periods (e.g. weekly or every two weeks)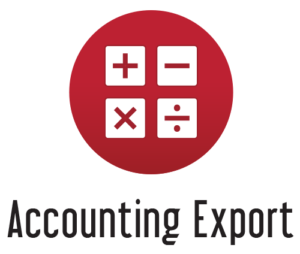 This module exports your invoicing, time sheets, expense accounts and bonuses data according to your preferences and your accounting software. It is compatible with most popular accounting software products:


–

Allows you to print your invoices from Maya Suite or from your accounting software

–

Allows you to export your customer and employee files to your accounting software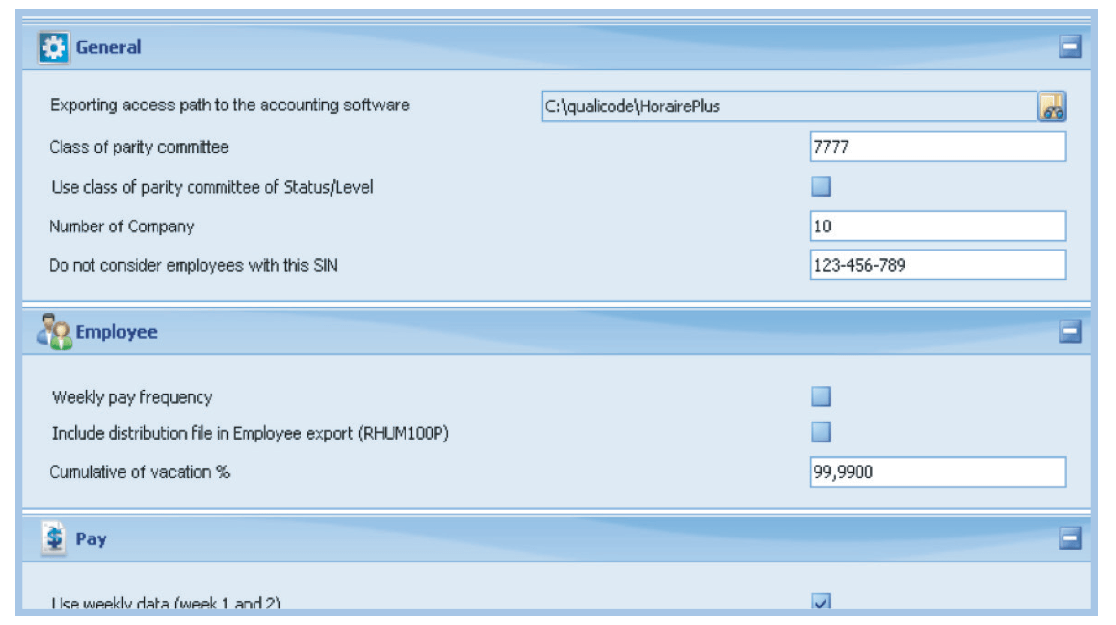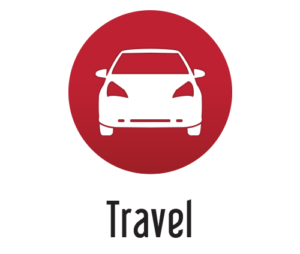 This module calculates travel time and distance to suggest the most efficient itinerary while optimizing your customer service. It also enables you to plan for associated costs.
–

Allows you to reduce travel time and costs

–

Allows you to define travel management rules (e.g. less than 20 kilometers between 2 appointments)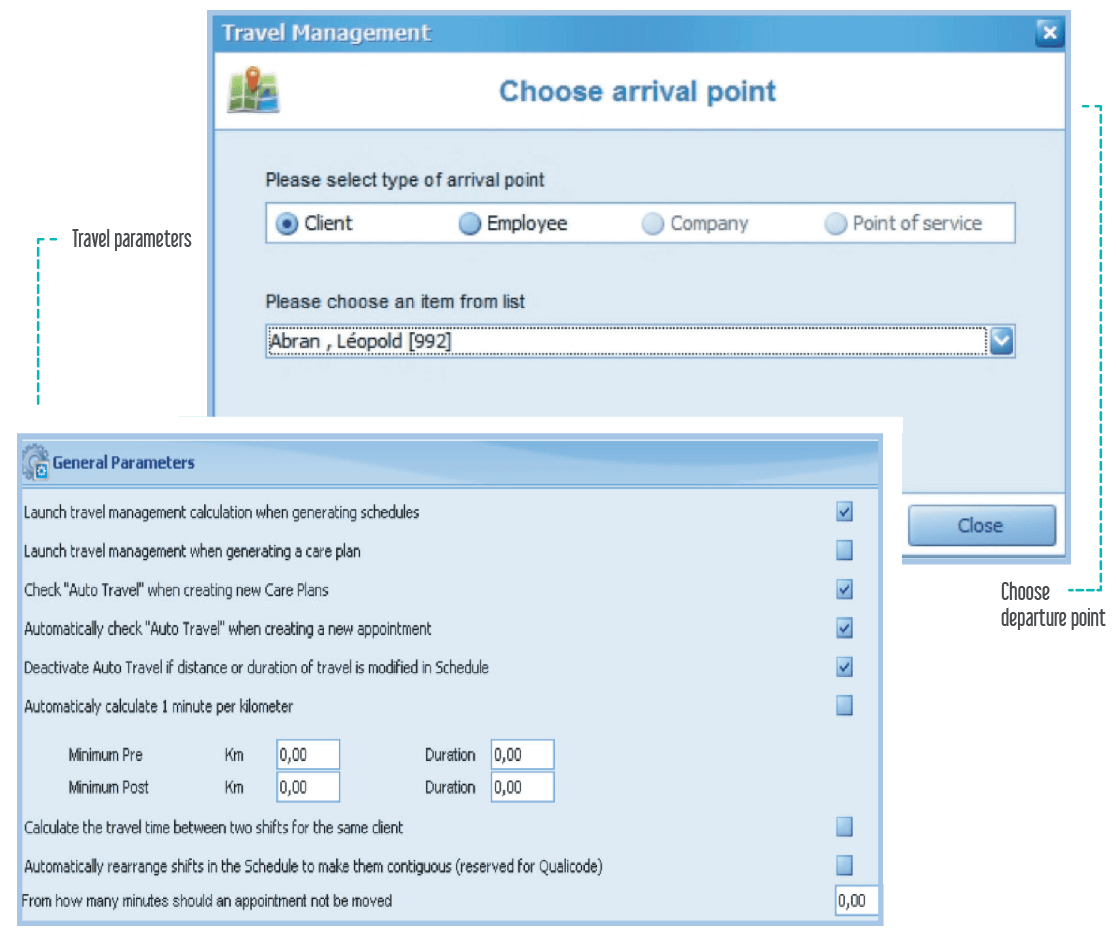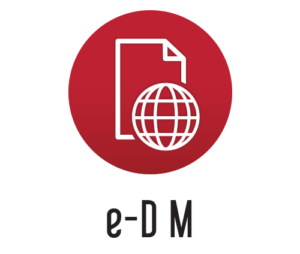 For a paper-free future, this module saves and files all field documents into your database.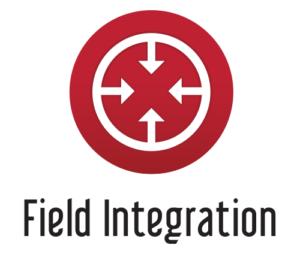 This module manages your on-site employees' time to make sure all appointments are covered. We have the right real-time management solution for your business. Usage-based invoicing.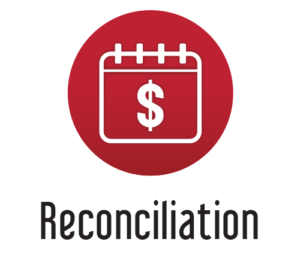 This module reconciles schedules in time sheets, manages payments collected by your employees, and exports them to your accounting system.
–

Perfect for companies that use paper documents on the field

–

To make sure all chargeable services have been executed

–

Appointment adjustments, such as their duration or financial details, can be done directly from this screen

–

Allows you to print cheque lists and a deposit slip for cash amounts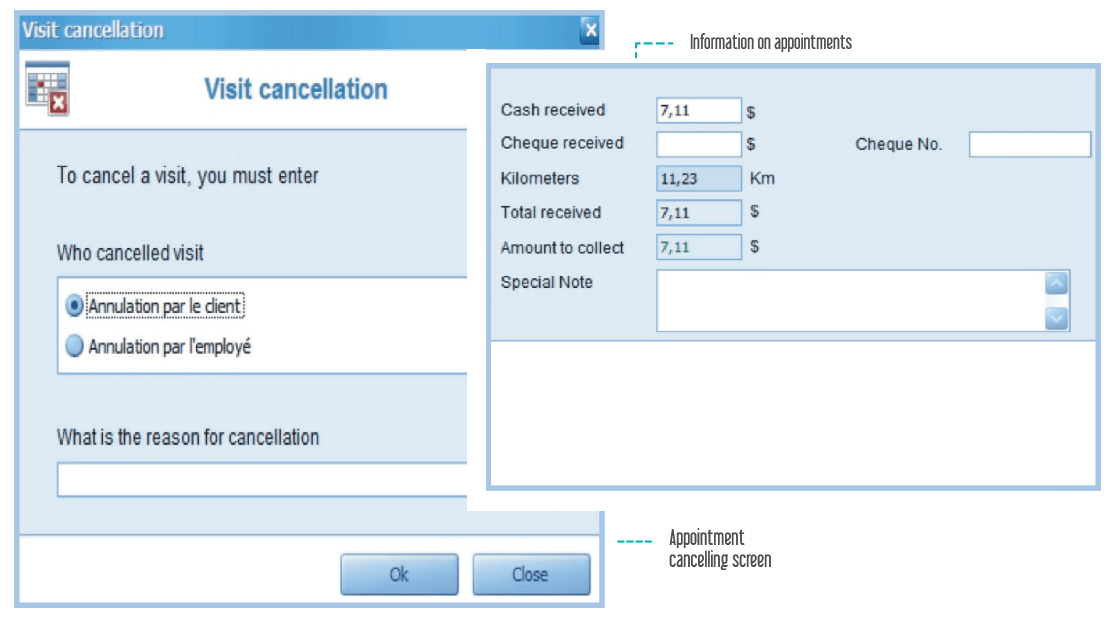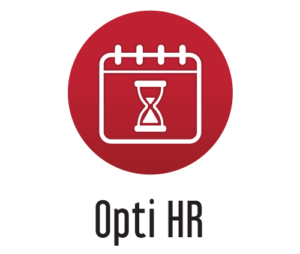 –

This module optimizes employees' working time in many ways: by filling gaps in their schedules and by moving and rescheduling appointments according to your criteria.

–

Allows you to reduce overtime by optimizing your employees' availabilities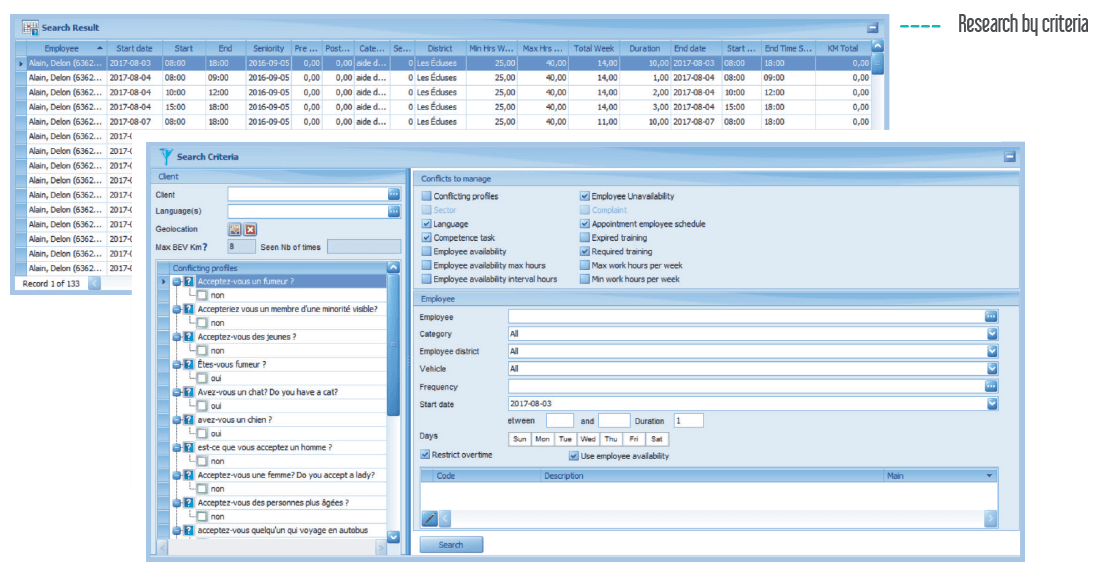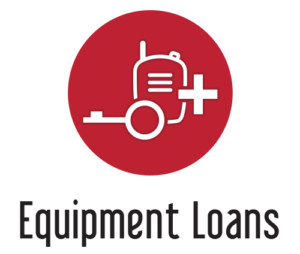 This module keeps track of your equipment loans as well as who are the lenders and borrowers, whether they are customers or employees..
–

Allows you to generate a contract that includes loan and return dates

–

Allows you to record the borrower, the object borrowed, etc.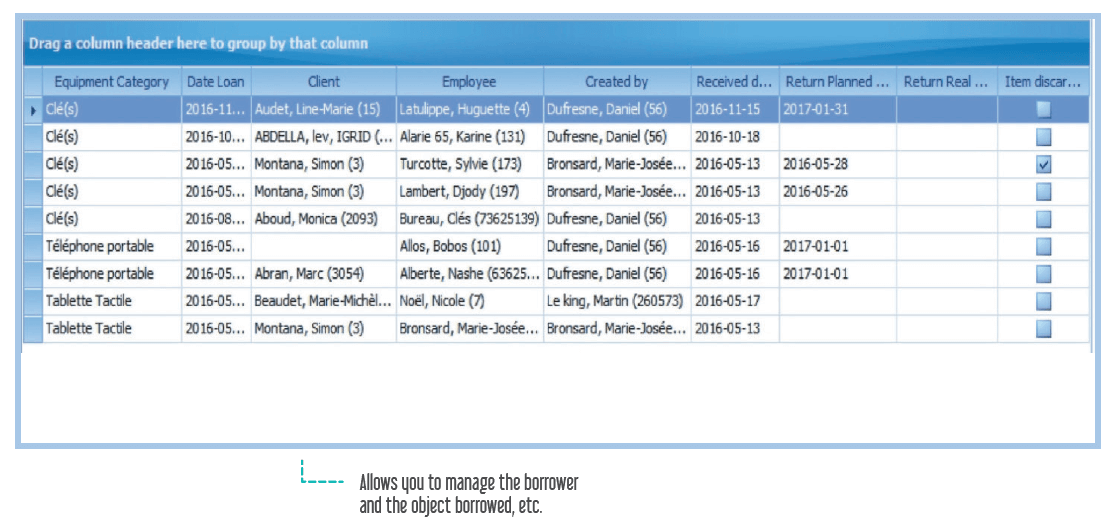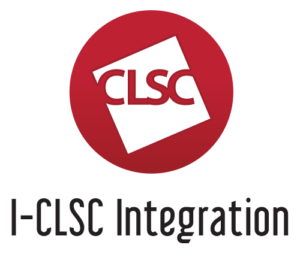 This module is available for CISSS and CIUSSS. It allows you to import customer files from I-CLSC and export statistics inputs, and it therefore eliminates the compilation of employee timesheets.
* Available only in Quebec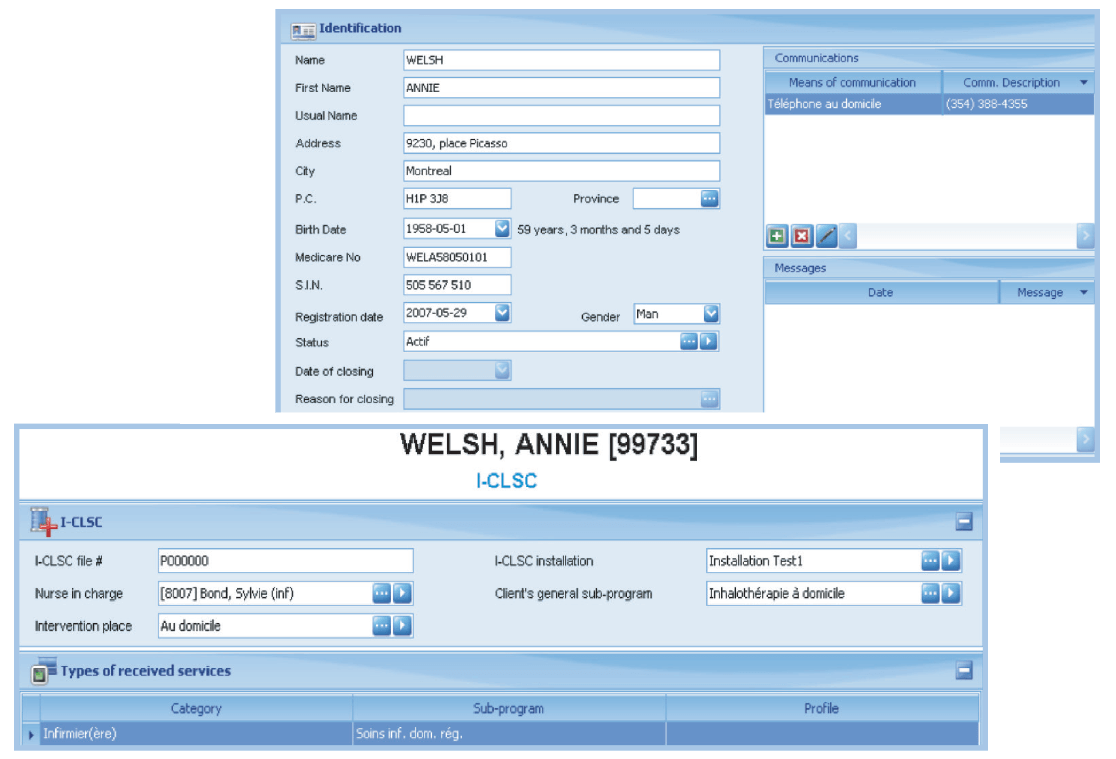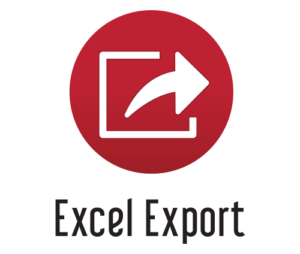 This module transfers your data in Excel format and allows you to create your own statistics.
–

Allows you to extract report data and transfer them in Excel format so that you can create your own pivot tables

–

Allows you to create and save an unlimited number of reports

–

Data tables allow you to easily choose needed data fields

–

Filters allow you to target your data


WHAT ARE THE ADVANTAGES OF USING
Qt–TIME & RESOURCES COMPLEMENTARY MODULES?
A selection of 11 modules perfectly integrated with the basic Q t–Time & Resources Maya Suite module to plan, optimize and integrate all your operations and maximize your efficiency!
ORDER YOUR CUSTOMIZED CATALOG NOW!
Contact us today at 1-877 323-2337 #203. We will be happy to mail you a copy or book an appointment.